If you are looking for window cleaning companies for your office or commercial building, Serna FM is on hand to assist you today. We have over 15 years of experience and use rope access to offer professional window cleaning for even the tallest of buildings.
Whether you are based in North, West, South or East London, we have successfully worked with over 1000 companies to date. You can read our testimonials online to find out more. To get a window cleaning quote for your company, simply fill in the form provided or call us today on 020 7788 4313
Whether you are based in North, West, South or East London, we have successfully worked with over 1000 companies to date.
You can read our testimonials online to find out more. To get a window cleaning quote for your company, simply fill in the form provided or call us today on 020 7788 4313.
Contact us today to discuss your window cleaning project
How Often Should Commercial Buildings Get Their Windows Cleaned?
At least every two months, sometimes even more often depending on the industry your business operates in. It's important for an organization to project a clean and professional image. Your windows are one of the first physical interactions potential and existing customers have with your company. It can often be their first impression.
Most commercial buildings should get all windows (inside and out) cleaned at least every two months. If the building is on multiple floors, the lobby area often used as a reception for guests should be cleaned even more often. This area will be a place where many guests and prospects spend their time making it a priority to be sparkling clean. Glass entrance doors that are used often and can be the first impression people have of your building may need to be cleaned daily.
Read More
The industry a company operates in also dictates how often windows should be cleaned. For retail shops and restaurants, their windows act as the first impression to customers and often serve to entice entry. These types of businesses should clean their windows more often at a frequency of every two weeks.
Health facilities such as hospitals, GP practices, medical centres and dentists should also have a much more frequent cleaning schedule for their windows. For these clinical establishments it's crucial they appear cleanly and well maintained to give patients the confidence they will be cared for in practices that are sanitary, clean, and safe.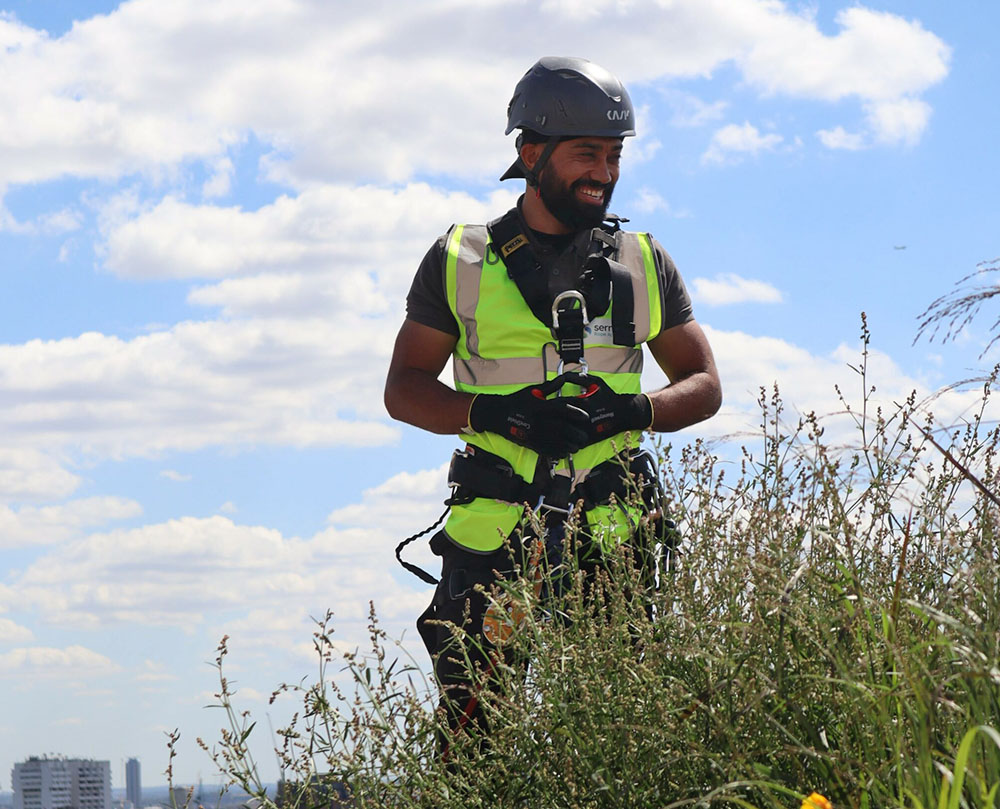 What is the Best Way to Clean Windows?
First prepare your glass cleaning solution. We'd recommend creating an effective natural solution that's environmentally friendly using warm water, lemon juice and vinegar in a spray bottle. Use one part lemon and vinegar to ten parts water. If more glass cleaner is required use the make more using the same proportions of ingredients stated above.
First wipe down the windows using a lint free soft microfibre cloth or a paper towel to remove any dust before you spray your solution. Now spray your natural solution onto your window and use your microfibre cloth to clean. Make sure to quickly dry the window once clean to avoid smears.
Read More
If cleaning larger windows that require larger volumes of glass cleaner, make the natural cleaning solution in a larger bucket. Dip a clean sponge into the solution and dampen the windows. Then using a squeegee clean the windows , starting from the top and moving down towards the bottom.
If you need help with your window cleaning, especially in harder to reach areas Serna's professional window cleaners can assist with all your needs. Don't hesitate to get in contact today.
Why do Windows Often Look Streaky After Cleaning?
Using glass cleaners that contain ammonia and alcohol can often cause streaks to your windows. These types of solutions can also leave a thin film that could attract additional moisture and dust.
It's important to dry the windows as quickly as possible to avoid streaks. If streaks do remain, we recommend rinsing the window with clean water to assist in the removal of any of the cleaning solutions that remains on the window that is causing the streak. Ideally you will want to dry the windows once cleaned as quickly as possible as this helps to avoid any smear and smudges.
Windows in commercial buildings frequently have specific glass features or coatings that make cleaning with no streaks a nearly impossible task for staff that aren't highly specialised. Calling in a professional in these instances is highly recommended.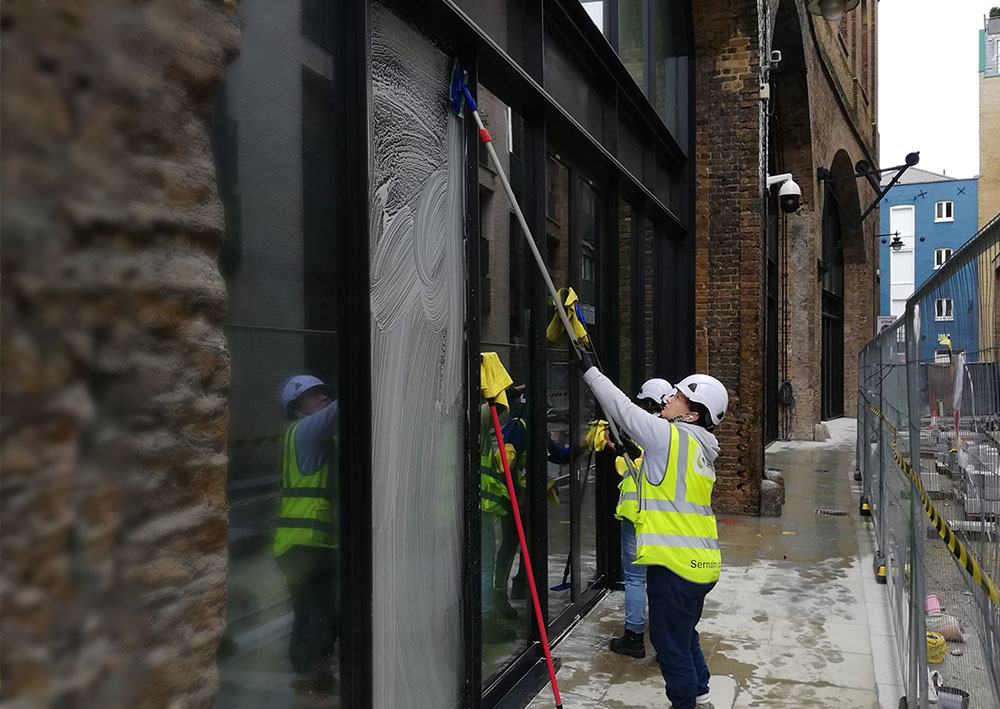 Why Use Serna FM for Window Cleaning?
Serna FM have over 15 years dedicated service in cleaning windows. We are completely obsessed with providing the highest quality of service and ensure we maintain the highest standards for all of our window cleaning work.
Our window cleaning professionals are highly skilled, fully vetted, trained and insured. We adhere to the highest levels of health and safety standards. Our organization is fully accredited and recognised by numerous bodies for our commitment to both the quality and safety of our work. We perform frequent quality checks meaning you can rest assured that your windows will always be left looking sparkling clean.
Read More
We pride ourselves on our commitment to customer service and operate with a highly personable approach. You will find we are always contactable and will go above and beyond to exceed your expectations.
Our rope access technicians are able to reach any windows no matter the height of your building and are trained to the highest industry standard. All rope access technicians are qualified by the Industrial Rope Access Trade Association at level 3 ( the highest level of comprehensive training for rope access safety).
We would be delighted to make your windows sparkling clean and operate across all of London including ; North London, North West London, Central London, South London and East London.
How Do You Clean Hard to Reach Windows?
Cleaning hard to reach windows of buildings that are less than 3 stories can be done successfully using ladders and extendible squeegees. Be sure to take the relevant safety precautions when using a ladder, ensuring it is well secured and that head protection is worn.
Read More
For taller buildings that are multiple stories high, it's likely you will need to call in professionals who are adept and trained to clean windows at extreme heights. This is usually done via rope access professionals who use a combination of tools and equipment to clean hard to reach windows on skyscrapers and larger office blocks and commercial buildings. Rope access technicians descend, ascend, and traverse ropes for access and work while safely and securely suspended by their harness.
Serna FM specialises in cleaning harder to reach windows and glass ceilings of taller commercial buildings, office blocks and skyscrapers. We'd be delighted to help assist.
Get in touch and find out how we can help today.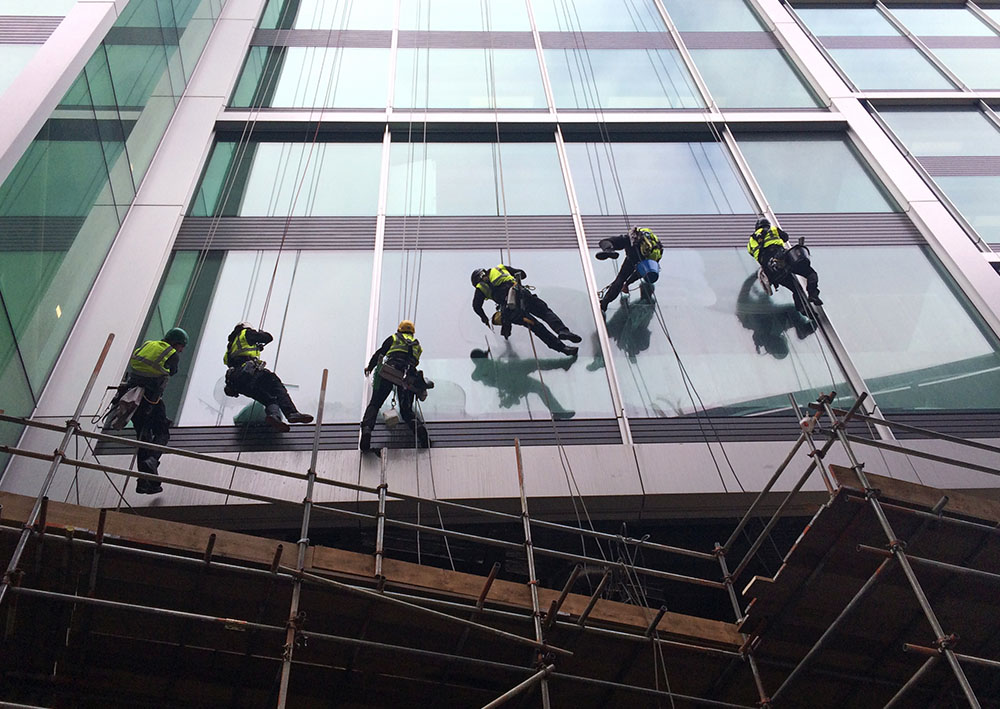 How much will professional window cleaning cost?
Window cleaning cost will vary depending on the size and number of the windows that need to be cleaned as well as how challenging the windows are to be accessed. Windows that require rope access professionals such as those on taller office blocks and skyscrapers require highly trained rope professionals which will be more costly.
At Serna we guarantee fantastic value for money and extremely competitive pricing. Get in touch today and we will provide a complimentary quote for your window cleaning needs. We offer our window cleaning services across all of North London, North West London and Central London.
Serna Facilities Maintenance Accreditations & memberships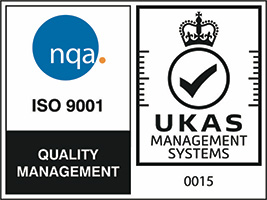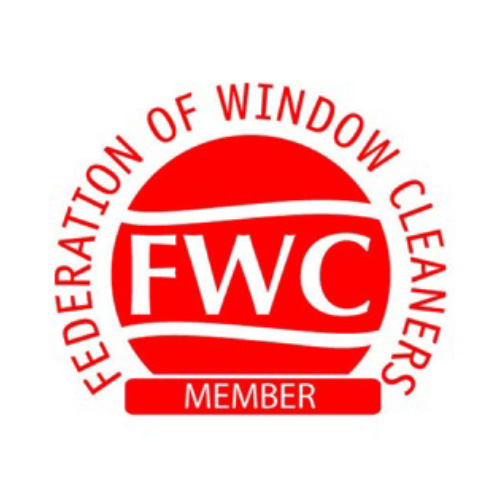 Some of our clients we work with