Deep Cleaning Services in London
If you are looking for an industry leading deep cleaning company Serna FM is on hand to help today. With over 15 years of experience in deep cleaning including end of tenancy cleaning and after builders cleans Serna FM will keep your building sparkling clean. 
Whether you're based in North London, West London, Central London, South London or East London , we have helped thousands of clients with their deep cleaning needs. You can read their testimonials and learn more about our services online. To get a quote today simply fill out the form provided or contact us now on 020 7788 4313.
Whether you are based in North, West, South or East London, we can offer a range of deep cleaning services to suit your needs. We have successfully worked with over 1000 companies to date providing efficient , professional and reliable facilities maintenance services.
You can read our testimonials online to find out more. To find out more about our deep cleaning services or to get a deep cleaning quote for your company, simply fill in the form provided or call us today on 020 7788 4313.
Contact us today to discuss your deep cleaning project
What is Deep Cleaning?
Deep cleaning is a much more thorough service than a routine clean. Deep cleans consist of cleaning areas that are often missed during a standard cleaning. These are often harder to reach stains and areas that routine cleans simply aren't able to handle. Deep cleans ensure that all surfaces are completely free of any allergen, bacteria, dirt particles, and grime. Deep cleaning is of a much more meticulous nature than a normal clean and frequently focuses on kitchens, toilets, and common areas of buildings. 
During a deep clean, a fully comprehensive clean is carried out of the entire area which often takes more time and is carried out less frequently. In commercial buildings such as offices and schools, a deep clean is a service that goes well beyond the standard daily cleaning of the visual areas that are most often used by staff and customers. Often daily cleaning in commercial buildings can be to keep the areas looking tidy, professional and presentable. Deep cleaning, however, gets into cleaning and disinfecting every crevice, not just that which is seen by the naked eye.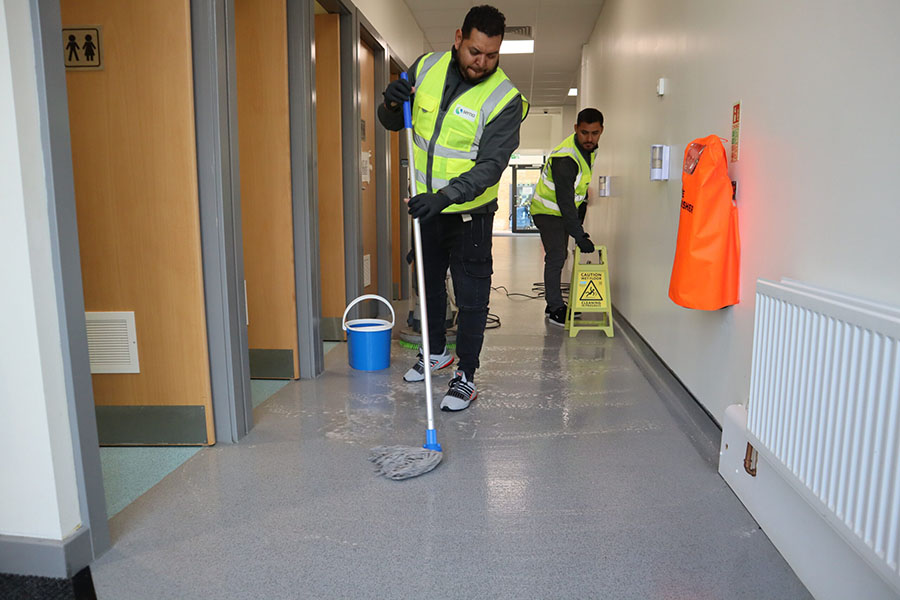 What are the Benefits of our Deep Cleaning Services?
There are many different benefits to deep cleaning. Some of which are obvious such as knowing your building is sparkling clean. Others are less obvious such as the health and productivity implications. Here is a list of all the benefits deep cleaning provides:
Read More
Health

: engaging in a deep clean protects your building and its inhabitants against diseases. Deep cleaning involves the disinfecting of all areas and will remove all nasty bugs, bacteria, and mold and thereby protecting your health. Deep cleaning is even more important today given the prevalence of viruses such as COVID-19. It improves indoor air quality helping protect you against such viruses and diseases

Full-Scale Cleaning

: deep cleaning goes beyond removing top-level dust and dirt. It will get rid of built up hard to clean dirt, bacteria and mold. Cleaning areas that are not seen by the naked is an often neglected but important need.

Identification of unseen health risks

: undertaking deep cleaning can help uncover health, safety and hygiene concerns that would otherwise go unnoticed during standard cleans.

Employee Productivity

: workers often feel more energized and productive when allergens and dust particles are removed from the environment. The increase in the quality of air quality often lifts employees' moods and happiness.
When are Deep Cleans Done and How Often Do They Occur?
Deep cleaning should be a practice that all homes and commercial buildings engage in. It's imperative that environments are kept in optimal conditions that maintain the highest level of hygiene and cleanliness. 
Read More
For a residential home, a deep clean should be done at least twice a year, though we would recommend three times. Deep cleans are often engaged in when a renter's tenancy comes to an end. This is often called an end-of-tenancy clean. The goal of an end-of-tenancy clean is to ensure that the building is perfectly clean ahead of new tenants renting the premises. Commercial buildings should also be deep cleaned at least three times a year though we suggest an even more regular cleaning cycle, especially if renovation or redecoration work is done.
Deep cleaning is often engaged in at the end of renovation projects, often referred to as after builders cleans or sparkle cleaning. Once construction work is completed, a thorough clean of the building and its premises is required before handover. It's particularly important as this sparkle clean ensures your newly built or refurbished building looks fantastic ahead of handover or sale. This often includes removing construction debris and removing soil and grit from carpets among other standard deep cleaning services.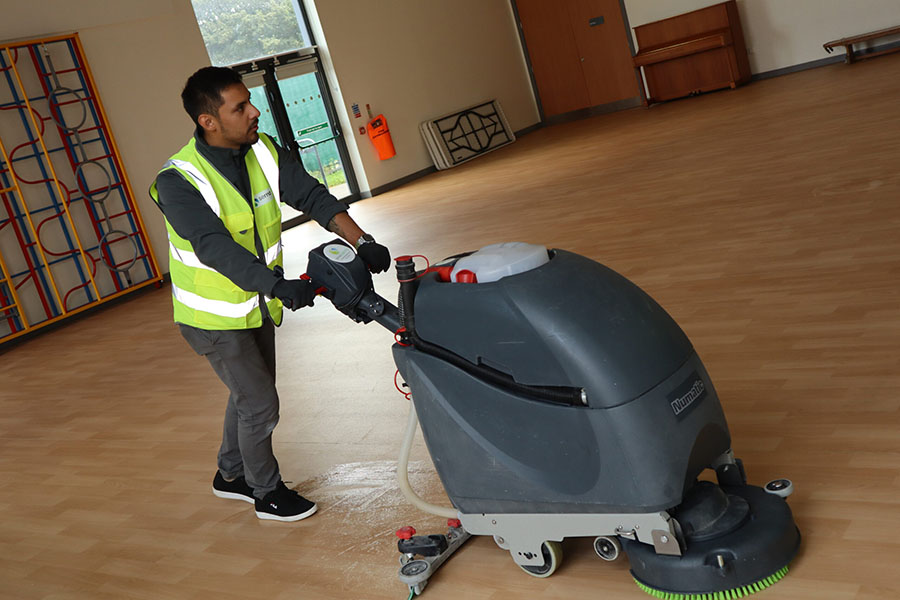 An often neglected area of deep cleaning is the build-up of bacteria on computers, keyboards, and telephones in offices given their regular use. We offer extensive cleaning of all your computers and telephones so that you can protect the health of staff when working in the office.
With over 15 years of experience in deep cleaning offices, schools, after-builder's cleans and end-of-tenancy cleans we offer only the highest standards of quality. All our staff are fully insured, vetted, highly trained and adhere to the highest safety and hygiene standards. We are highly attentive and personable with customer service being at our core. Our referral retention rates speak volumes and we will always go above and beyond to keep our clients happy. We are accredited by many bodies and organizations for our dedication to quality and service.
Read More
If cleaning larger windows that require larger volumes of glass cleaner, make the natural cleaning solution in a larger bucket. Dip a clean sponge into the solution and dampen the windows. Then using a squeegee clean the windows , starting from the top and moving down towards the bottom.
If you need help with your window cleaning, especially in harder to reach areas Serna's professional window cleaners can assist with all your needs. Don't hesitate to get in contact today.
Where Can I Find Deep Cleaning Services Near Me?
Deep cleaning is a specialist service and often requires specific equipment and highly trained and vetted professionals. Be sure to do your research and find a professional company that is trusted and has an extensive history of providing top quality cleaning services.
There are many accredited deep cleaning services companies in the UK. If you require deep cleaning services in London, Serna FM can cover all your needs and we would be delighted to assist. We offer our services across all of North London, North West London, Central London, South London and East London.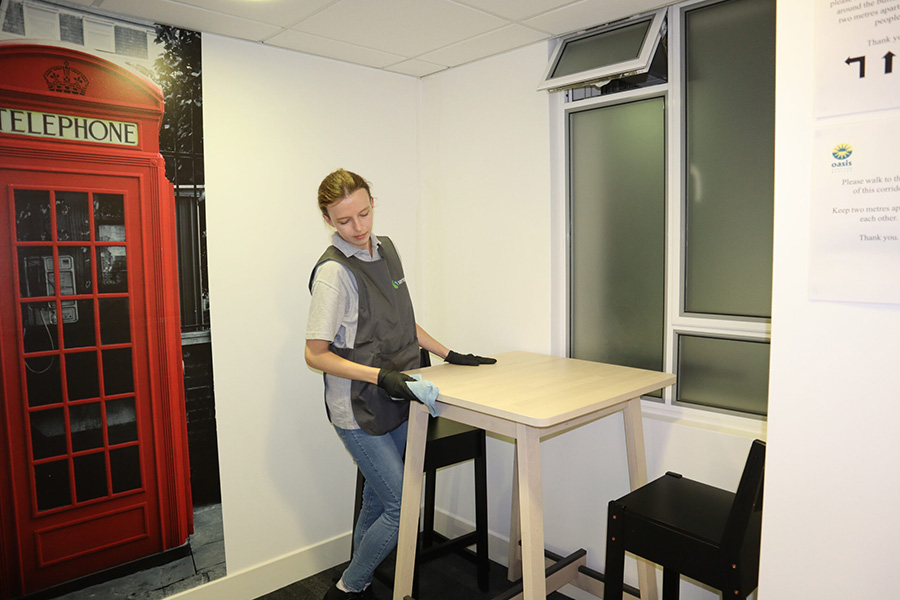 How Much Does Deep Cleaning Cost?
Deep cleaning service costs will vary widely from company to company. Some companies are single entity individuals. These types of companies are often cheaper but lack the same level of skill and resources of professional service deep cleaning companies. Serna FM is a deeply professional cleaning company. All our staff are highly trained, insured and vetted and perform to the highest quality standards. We offer incredible value for money and our prices are some of the most competitive in the industry for the resources and quality of service provided. 
Serna Facilities Maintenance Accreditations & memberships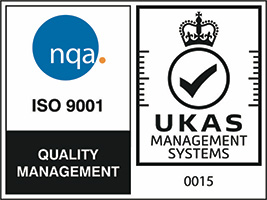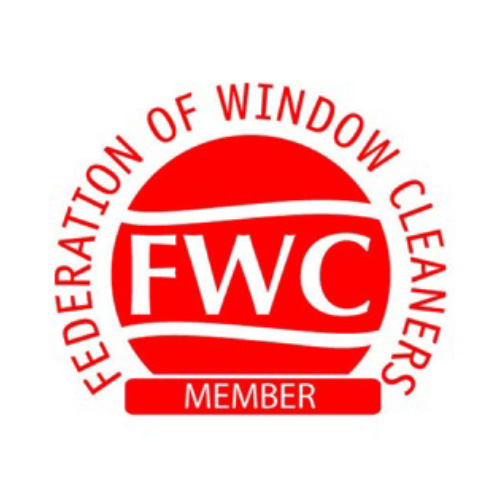 Some of our clients we work with